Posts for: May, 2020
By Dimples Dental Suite
May 20, 2020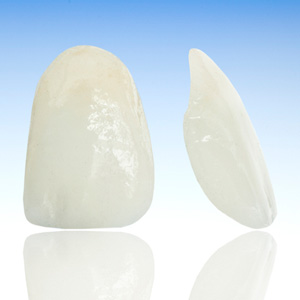 If you have a less than attractive smile due to some moderate imperfections, dental veneers may be the answer. This relatively inexpensive dental restoration may be the key to transforming your smile.
If you're thinking of veneers as a "thin covering," you're on the right track. Just like construction veneers used to cover wall surfaces, dental veneers are thin wafers of material (usually porcelain) that cover the front of tooth surfaces. Made uniquely for the individual patient, veneers provide a life-like covering that can mask a variety of dental imperfections.
Veneers are mildly invasive, meaning some of the enamel layer of the teeth to which they're bonded will need to be removed. If this alteration occurs, it's permanent, so the teeth will require a veneer or other restoration from then on. It's usually necessary, though, so that the veneer doesn't appear too bulky. Even so, veneers are still less invasive than other restorations.
The list of appearance problems veneers can address is quite varied. One of their more common uses is to correct certain structural flaws in teeth: chips, abnormal tooth shape from wear or teeth that are congenitally smaller than normal.
They're also a remedy for heavy staining. While teeth whitening can temporarily brighten a dull, dingy smile, veneers provide a permanent solution for the problem of staining. They're also a practical option for internal tooth staining, which can't be addressed by either home or professional external teeth whitening procedures.
Finally, veneers may be used to close small gaps and other mild forms of dental misalignment. And although they may not be able to correct larger gaps by themselves, they're sometimes used in conjunction with orthodontic treatment.
Veneers can address many dental flaws, but not all. To see if your dental situation could benefit from a veneer application, you'll need to undergo a complete dental examination. If it seems veneers aren't a good fit for you, your dentist will discuss other types of cosmetic treatments to improve your smile.
If, on the other hand, veneers do appear to be a viable option for you, you're just a few visits away from a completely new look. Veneers can change your smile—and your life!
If you would like more information on porcelain veneers, please contact us or schedule an appointment for a consultation. You can also learn more about this topic by reading the Dear Doctor magazine article "Porcelain Veneers: Strength & Beauty as Never Before."
By Dimples Dental Suite
May 10, 2020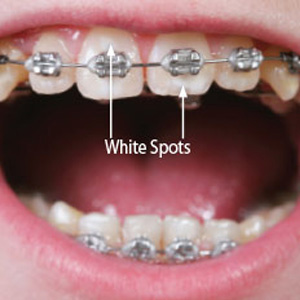 Straightening your teeth with braces or other orthodontic gear is a positive step toward a healthier and more attractive smile. You'll likely be pleased with your smile when they're removed.
But you may also notice something peculiar once the braces are off—dull, white spots on your teeth. These spots, usually located under or around braces hardware, are where mouth acid has "demineralized" calcium and other minerals in the enamel. As beginning tooth decay, these spots are a sign your hygiene efforts weren't sufficient in cleaning your teeth of plaque.
In many cases, the spots will improve on their own after the braces are removed. We can also strengthen the enamel with fluoride pastes or gels, or inject tooth-colored resin within the spot to restore the enamel's translucence and improve appearance.
But the best approach is to try to prevent white spots from occurring at all. Here's what you need to do.
Keep up your oral hygiene. Even though more difficult with braces, you still need to brush and floss to protect your teeth from tooth decay. To make it easier, take advantage of special brushes designed to clean around orthodontic brackets and wires. A floss threader can also help you better access between teeth—or switch to a water flosser instead of floss thread.
Practice a "tooth-friendly" diet. A diet high in sugar and acid could short-circuit your best hygiene efforts. Certain beverages are big offenders: sodas, energy and sports drinks, and even "natural" juices. Instead, eat foods high in vitamins and minerals like fresh fruits and vegetables, lean proteins and low-fat dairy.
Get your teeth cleaned regularly. While you're seeing your orthodontist for scheduled adjustments, don't neglect regular cleanings with your family dentist. Professional cleanings at least every six months reduce the risk of dental disease. These regular visits are also a good time for your dentist to check your teeth for any signs of dental problems associated with your braces.
It's not easy to keep your teeth clean while wearing braces, but it can be done. With help from a few handy tools and continuing care from your dental professionals, you can avoid unsightly white spots.
If you would like more information on dental care while wearing braces, please contact us or schedule an appointment for a consultation. You can also learn more about this topic by reading the Dear Doctor magazine article "White Spots on Teeth During Orthodontic Treatment."